Damaged Hair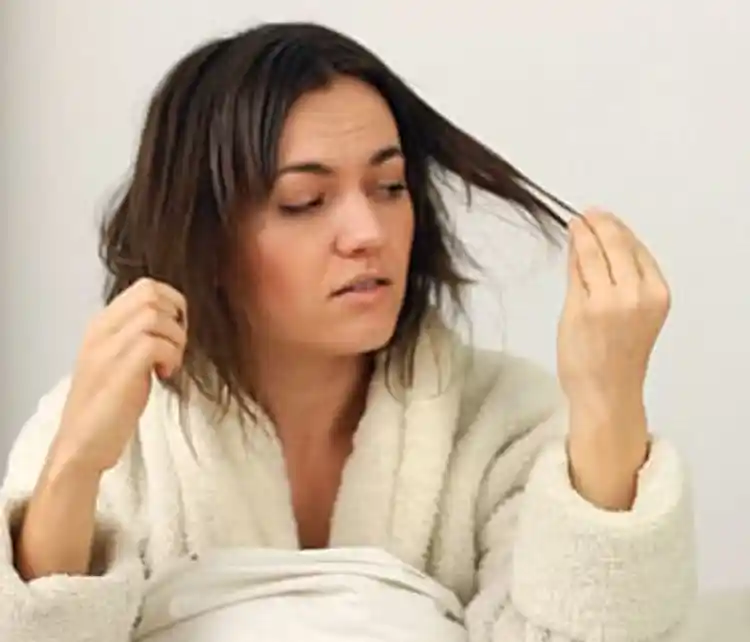 Video Transcript
[MUSIC PLAYING]
NARRATOR
Your hair, you want to love it. But if you're having a love-hate relationship and your crowning glory is looking less than glorious, it may be damage. The major hair enemies out there are over-shampooing, under-conditioning, too much heat from dryers and irons, over-processing and chemicals, and overexposure to sun. So if your hair is brittle, limp, or dull, and you're seeing more of it than you're used to in the brush or shower drain, here are some tips to get it back to its former fabulousness.
MARION VENTULETT
I usually recommend that a client will brush their hair before they shampoo. That will remove a lot of dust and dirt and also distribute oils.
NARRATOR
But brushing can also do some damage. So you have to know when to brush and when not to.
MARION VENTULETT
When hair is wet, it will stretch sometimes twice its length before it snaps. So you never want to brush wet hair. You comb it.
NARRATOR
We all want clean hair. But many of us overdo the sudsing. Over-shampooing can help rob hair of its natural oils, oils that help replenish the keratin that our hair is made of and which makes it smooth and shiny. If your hair isn't looking too oily, you may not need to wash it at all. When you do wash, avoid shampoos with lauryl sulfate because it can make your hair very dry. You don't usually have to lather all the way down to the ends either.
[WATER RUNNING] When you rinse, the trickle-down theory will get your hair clean without stripping. And rinsing with cooler water will wash away the dirt without flushing out too much of the oil. Or you may try using a dry shampoo.
MARION VENTULETT
Everyone likes to take hot showers, just not our hair.
NARRATOR
Keeping your hair free of buildup from chemicals is important because they can throw your hair's pH level out of whack. Proper pH is key to healthy hair. You can use a clarifying shampoo to help flush away unwanted chemicals, or you can try to stop problems before they start.
MARION VENTULETT
Wet your hair before you go in. And you will not absorb as much chlorinated bleach.
NARRATOR
That's because dry hair acts like a sponge. Wearing a swimming cap is not a bad idea either.
MARION VENTULETT
When we're talking about damaged hair, it's thirsty hair. So general rule is you cannot condition it enough. Emulsify it like lotion.
NARRATOR
If your hair is damaged--
MARION VENTULETT
And let's focus midshaft out to the ends.
NARRATOR
Use a conditioner that contains an essential fatty acid like almond, coconut, or argan oil. Also look for dimethicone, an organic silicone that moisturizers hair and skin. Carolyn's hair has been damaged by too much sun. So Marion will use a deep conditioner that will smooth out coarseness and make her hair more pliable followed by a cool rinse and a gentle towel drying.
MARION VENTULETT
A lot of people have a tendency to go rapidly back and forth when they're drying their hair. That roughs the cuticle up. And if you've got curly, wavy hair, it's going to make it frizzy.
NARRATOR
Since the ends take the brunt of wear and tear, a periodic snip can work wonders.
MARION VENTULETT
Spray a little bit in your hand as well.
NARRATOR
Marion also applies a leave-in conditioner to help tame the rest of the shaft. Remember, a little bit goes a long way. Avoid applying too close to the roots so it doesn't weigh your hair down. [BLOW-DRYING] Keep your blow dryer moving in a back and forth motion so you don't overheat your hair. For damaged hair, use your fingers to untangle and to gauge whether an area is getting too hot.
MARION VENTULETT
Carolyn, I'm going to apply a little bit of what's called argan oil.
NARRATOR
Finish up by using a nurturing hair oil to replenish any lost moisture.
MARION VENTULETT
All right, Carolyn, you look beautiful.
CAROLYN
It does look beautiful. Thank you so much.
MARION VENTULETT
Yeah, you're welcome, my pleasure.
NARRATOR
So if sun, chemicals, heat, or color have made your locks lose their glamor, remember, there are ways to restore it to its full luster.