Fab at 40 Makeup Tips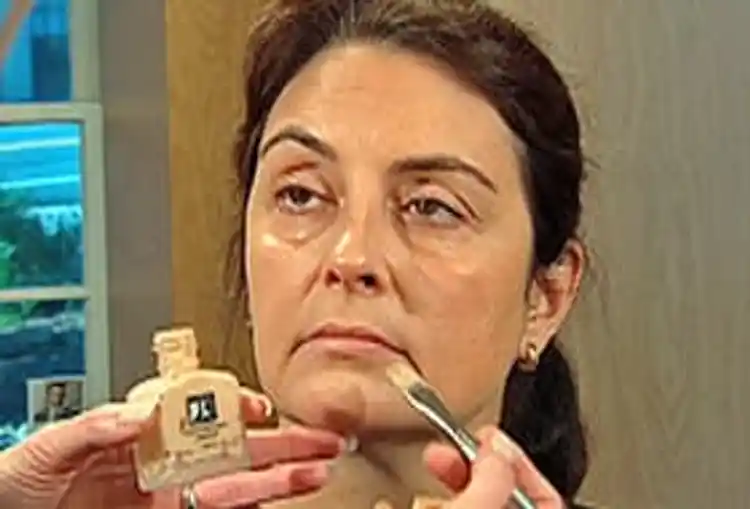 Video Transcript
: Music
Janeen Loria
I think a look you're looking for today would be something you could do, adjust from day to night in and maybe bring it up quickly. Just a little bit of eye cream should be used before applying anything around the eyes. It's best to do that morning and night, so make sure that you're also using sunscreen all year long. We've already applied her SPF. I would always go with at least a 30 for a moisturizer, ok. Prior to applying any of the foundation, though, I do like a moist skin, so I'm misting with a skin mist. Moving right into applying a foundation to your skin and I'm going to use a brush, fingers and a sponge to get where I want to be.
Janice
Is it better to use a brush, fingers or all of the above?
Janeen Loria
All of the above.
Janeen Loria (cont.)
Everyone believes just one foundation is their one color, but the skin really is multiple colors and undertones in various places. You may be red around the nose. You may be obviously darker, a lot of people have issues with darkness under the eyes. So a couple of different colors is beneficial. I'm using a little bit lighter foundation now just to highlight the center of her face.
Janice
How do you know which color to use in which place?
Janeen Loria
Well, a lot of that has to do with the undertones in the skin. You're very golden so I'm using a yellow tone or yellow base foundation. As far as which color goes where, a lighter color will highlight, versus a darker color, which will contour. So if we needed to contour to create more dimension in your face, more bone structure, I would use a darker shade, slightly, in that area and to highlight the bridge of the nose obviously. And around the eye area, I'm going to use a lighter foundation. I'm not using concealer yet because I'm going to do your eye makeup first and then we'll use concealer as a last, finishing touch.