Silver Years: Luscious Lips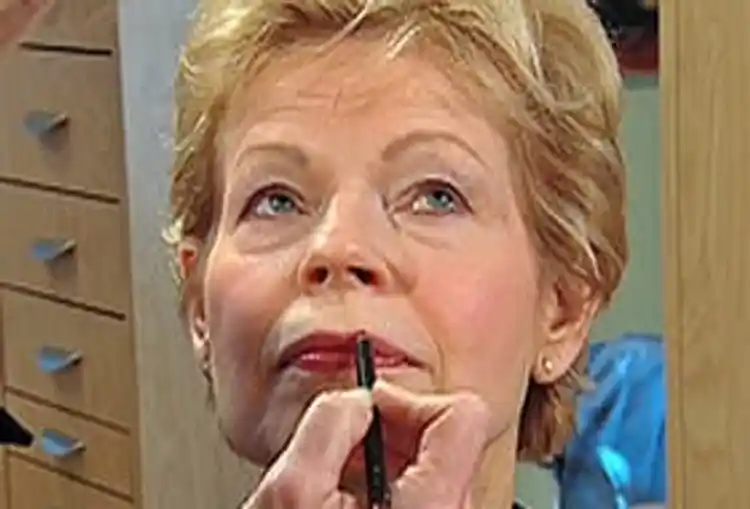 Video Transcript
: Evening Glamour for the Silver Years
Janeen Loria
I think we go for a rosy red lip. I'm going to apply the lip color first. I'm not going to line her lips. The loose powder set over the lip first will help seal the lip so the lipstick won't run or bleed. You want a creamy lipstick that's not (a) too dry or too glossy. The glossier the product the more it's going to run. I'm going to now use a lip liner… and she can carry a little more color. It would also be pretty for her to wear less.
Janeen Loria (cont.)
Since we've done such soft eyes, I'm going to balance this with just a little bit bolder lips. Lip liner is not necessary, it's just an extra benefit to shaping a mouth that is irregularly shaped or creating a barrier so that the lipstick doesn't run away. I'm going to use the flat end of my sponge with a little bit more of that loose powder and run that up next to that lip liner to seal it.
: Smile
Janeen Loria
Ok after the lip liner is applied in that little veil of loose powder we put around the lip, I'm going to take my brush and blend everything again. I still have a little color on the brush from the lipstick.
Janeen Loria (cont.)
The last thing I want to do on you is apply two or three individual lashes to the corner of each eye. Just to give your eye just a little extra boost. They are so natural looking. You can get the hang of using them. Apply with your tweezers, we're holding it with the end of the tweezers and we're laying it down. You can also cut these if you feel like they're too long.
Janeen Loria (cont.)
Finally we can dust her over. One more splash of cheek color to brighten up the face. And there you go, your evening look.
Client
Oh my goodness. Thank you.
Janeen Loria
You're welcome.