Uses
This medication is used to treat a certain type of bone disease (Paget's disease) that causes abnormal and weak bones. Zoledronic acid is also used to treat bone loss (osteoporosis) in men and in women after menopause who are at high risk of having broken bones (fractures). It may also be used to treat or prevent osteoporosis in people who are taking corticosteroid medications (such as prednisone) for long periods. It works by slowing the breakdown of bone and keeping bones strong. It also helps to reduce the risk of broken bones (fractures). This medication belongs to a class of drugs known as bisphosphonates.Another zoledronic acid product is used to treat bone problems that may occur with cancer. The 2 products should not be used together.
How to use Reclast Bottle, Infusion
Read the Medication Guide and, if available, the Patient Information Leaflet provided by your pharmacist before you start using this product and each time you get a refill. If you have any questions, ask your doctor or pharmacist.
This medication is given as a single dose as directed by your doctor. It is given slowly into a vein over at least 15 minutes. The dosage is based on your medical condition and response to treatment.
Eat and drink normally on the day of treatment. Drink at least 2 glasses of fluid before treatment unless otherwise directed by your doctor. It is very important that you get plenty of fluids when you are given this medication.
If you are giving this medication to yourself at home, learn all preparation and usage instructions from your health care professional. Before using, check this product visually for particles or discoloration. If either is present, do not use the liquid. Learn how to store and discard medical supplies safely.
Avoid mixing zoledronic acid with IV fluids that have calcium in them (such as Ringer's solution, Hartmann's solution, parenteral nutrition-TPN/PPN). Talk to your pharmacist for more details.
Your doctor may direct you to take calcium and vitamin D each day. If you have Paget's disease, it is especially important that you take the directed amount of calcium and vitamin D during the 2 weeks after your zoledronic acid dose. Vitamin D and calcium are very important to prevent low levels of calcium in the blood. Tell your doctor right away if you have any symptoms of low calcium such as numbness/tingling (especially around the lips/mouth) and muscle spasms.
For the treatment of Paget's disease, this medication is given as a single dose and may be repeated based on your symptoms. For the treatment of osteoporosis, this medication is given as a single dose once a year. Talk to your doctor about the risks and benefits of long-term use of this medication.
Side Effects
Nausea, tiredness, flu-like symptoms (such as fever, chills, muscle/joint aches), dizziness, headache, or pain/redness/swelling at the injection site may occur. Most of these side effects are mild and occur within 3 days of treatment. Flu-like symptoms may be reduced by taking acetaminophen or ibuprofen after the treatment. If any of these effects worsen or last more than 4 days, tell your doctor or pharmacist promptly.
Remember that this medication has been prescribed because your doctor has judged that the benefit to you is greater than the risk of side effects. Many people using this medication do not have serious side effects.
Tell your doctor right away if you have any serious side effects, including: increased or severe bone/joint/muscle pain, new or unusual hip/thigh/groin pain, jaw/ear pain, unusual weakness, eye problems (such as redness/itching/swelling, sensitivity to light), muscle spasms, numb/tingling skin, irregular heartbeat, sores in jaw/mouth.
Get medical help right away if you have any serious side effects, including: signs of kidney problems (such as change in the amount of urine), seizures.
A very serious allergic reaction to this drug is rare. However, get medical help right away if you notice any symptoms of a serious allergic reaction, including: rash, itching/swelling (especially of the face/tongue/throat), severe dizziness, trouble breathing.
This is not a complete list of possible side effects. If you notice other effects not listed above, contact your doctor or pharmacist.
In the US - Call your doctor for medical advice about side effects. You may report side effects to FDA at 1-800-FDA-1088 or at www.fda.gov/medwatch.
In Canada - Call your doctor for medical advice about side effects. You may report side effects to Health Canada at 1-866-234-2345.
Precautions
Before using zoledronic acid, tell your doctor or pharmacist if you are allergic to it; or to other bisphosphonates such as alendronate or risedronate; or if you have trouble breathing (wheezing) after taking aspirin; or if you have any other allergies. This product may contain inactive ingredients, which can cause allergic reactions or other problems. Talk to your pharmacist for more details.
Before using this medication, tell your doctor or pharmacist your medical history, especially of: kidney problems, low calcium levels in the blood, problem taking calcium/vitamin D supplements, recent or planned dental surgery (such as tooth removal), certain gut problems (malabsorption, surgery on the small intestine), treatment with zoledronic acid (such as for cancer), parathyroid/thyroid problems (such as hypoparathyroidism, thyroid/parathyroid surgery), dehydration.
Some people using zoledronic acid may have serious jawbone problems. Your doctor should check your mouth before you start this medication. Tell your dentist that you are using this medication before you have any dental work done. To help prevent jawbone problems, have regular dental exams and learn how to keep your teeth and gums healthy. If you have jaw pain, tell your doctor and dentist right away.
Before having any surgery (especially dental procedures), tell your doctor and dentist about this medication and all other products you use (including prescription drugs, nonprescription drugs, and herbal products). Your doctor or dentist may tell you to stop using zoledronic acid before your surgery. Ask for specific instructions about stopping or starting this medication.
This medication may cause severe kidney problems, especially in the elderly. Consult your doctor or pharmacist for more information. To help prevent harm to your kidneys, drink plenty of fluids unless otherwise directed by your doctor. (See also How to Use section.)
This drug may make you dizzy. Alcohol or marijuana (cannabis) can make you more dizzy. Do not drive, use machinery, or do anything that needs alertness until you can do it safely. Limit alcoholic beverages. Talk to your doctor if you are using marijuana (cannabis).
Tell your doctor if you are pregnant or plan to become pregnant. You should not become pregnant while using zoledronic acid. Zoledronic acid may harm an unborn baby. Ask about reliable forms of birth control while using this medication and after stopping treatment. This medication may stay in your body for many years. If you become pregnant, talk to your doctor right away about the risks and benefits of this medication.
It is unknown if this drug passes into breast milk. Because it may harm a nursing infant, breast-feeding while using this drug and after stopping treatment is not recommended. This medication may stay in your body for many years. Consult your doctor before breast-feeding.
Interactions
Drug interactions may change how your medications work or increase your risk for serious side effects. This document does not contain all possible drug interactions. Keep a list of all the products you use (including prescription/nonprescription drugs and herbal products) and share it with your doctor and pharmacist. Do not start, stop, or change the dosage of any medicines without your doctor's approval.
Some products that may interact with this drug include: calcium-containing IV fluids, mineral supplements (especially those containing calcium, magnesium, or phosphorus), "water pills" (diuretics such as bumetanide, furosemide).
Also tell your doctor or pharmacist of drugs that may be harmful to your kidneys such as: aminoglycoside antibiotics (such as gentamicin, tobramycin), amphotericin B, nonsteroidal anti-inflammatory drugs (NSAIDs such as ibuprofen), tacrolimus.
Does Reclast Bottle, Infusion interact with other drugs you are taking?
Enter your medication into the WebMD interaction checker
Overdose
If someone has overdosed and has serious symptoms such as passing out or trouble breathing, call 911. Otherwise, call a poison control center right away. US residents can call their local poison control center at 1-800-222-1222. Canada residents can call a provincial poison control center.
Consult the product instructions and your pharmacist for storage details. Keep all medications away from children and pets.
Do not flush medications down the toilet or pour them into a drain unless instructed to do so. Properly discard this product when it is expired or no longer needed. Consult your pharmacist or local waste disposal company.
Images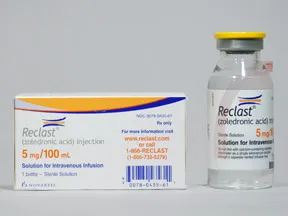 Reclast 5 mg/100 mL intravenous piggyback
Color: clear
Shape:
Imprint:
This medicine is a clear, clear, solution
Free RX Coupon
Save up to
80%

on your prescriptions.
Available coupons
Save up to 80% on your prescription with WebMDRx
Drug Survey
Are you currently using Reclast Bottle, Infusion?
This survey is being conducted by the WebMD marketing sciences department.
Selected from data included with permission and copyrighted by First Databank, Inc. This copyrighted material has been downloaded from a licensed data provider and is not for distribution, except as may be authorized by the applicable terms of use.
CONDITIONS OF USE: The information in this database is intended to supplement, not substitute for, the expertise and judgment of healthcare professionals. The information is not intended to cover all possible uses, directions, precautions, drug interactions or adverse effects, nor should it be construed to indicate that use of a particular drug is safe, appropriate or effective for you or anyone else. A healthcare professional should be consulted before taking any drug, changing any diet or commencing or discontinuing any course of treatment.