Uses
Histrelin is used to treat advanced prostate cancer. It is not a cure. Most types of prostate cancer need the hormone testosterone to grow and spread. Histrelin works by reducing the amount of testosterone that the body makes. This helps slow or stop the growth of cancer cells and helps relieve symptoms such as painful/difficult urination. Talk to your doctor about the risks and benefits of treatment.Histrelin is also used by children to treat early puberty (central precocious puberty). It helps to slow abnormally fast bone development so that height and growth rate are near normal and to stop or reverse signs of early puberty (such as breast/pubic hair growth in girls, pubic hair growth in boys). Histrelin works by reducing the amount of testosterone and estrogen. This medication is used until the doctor decides it is time for puberty to resume.
How to use Vantas Kit
Read the Medication Guide and, if available, the Patient Information Leaflet that comes with the histrelin implant. If you have any questions, ask your doctor.
Your doctor will surgically place the medicated implant under the skin of your upper arm. The implant releases histrelin into your blood slowly and continuously over 12 months. After 12 months, your doctor will remove the implant and replace it with a new one. Consult your doctor for details.
It is very important to keep the bandage in place for several days until the surgical incision heals. Keep the incision clean and dry. Avoid bathing and swimming for 24 hours after the procedure. Also avoid any heavy lifting, bumping of the incision site, or physical activity for 7 days after the procedure.
When you first start this medication, new or worsening symptoms may occur. This is a normal response by your body to this drug. Such symptoms should get better after the first month of treatment. Girls being treated for early puberty may notice vaginal bleeding or an increase in breast size or pubic hair. Boys being treated for early puberty may notice an increase in pubic hair. Tell the doctor if the symptoms last or get worse after 1 month.
New or worsening symptoms may also occur at the beginning of treatment for prostate cancer. Tell your doctor right away if you experience any of the following serious side effects: bone pain, numbness/tingling/weakness of the arms/legs, blood in the urine, painful/difficult urination, unusual weakness, inability to move. If you have prostate cancer that has spread to the spine or caused problems urinating due to blockage, you may require closer monitoring by your doctor, especially when you first start treatment.
Side Effects
Irritation at the implant site (such as bruising, pain, redness), mood swings, or headache may occur. In men using this medication for prostate cancer, hot flashes (flushing), increased sweating, night sweats, tiredness, swelling of the ankles/feet, or constipation may occur. In girls using this medication for early puberty, breast tenderness or abnormal vaginal bleeding may occur. If any of these effects last or get worse, tell your doctor or pharmacist promptly.
Rarely, breast tenderness/swelling may occur in men and boys as a result of lowered testosterone levels. Shrinking of the testicles and reduced sexual interest/ability may also occur in men. Talk to your doctor if these effects occur.
Remember that this medication has been prescribed because your doctor has judged that the benefit to you is greater than the risk of side effects. Many people using this medication do not have serious side effects.
If you are a man using this medication for prostate cancer, tell your doctor right away if you have any serious side effects, including: new/worsening bone pain, easily broken bones, increased thirst/urination, mental/mood changes (such as depression).
Get medical help right away if you have any very serious side effects, including: chest/jaw/left arm pain, fast/irregular heartbeat, severe dizziness, fainting, weakness on one side of the body, trouble speaking, seizures.
Children using histrelin may be at risk for increased pressure around the brain (intracranial hypertension). Get medical help right away if your child has any of these very serious side effects: nausea/vomiting that doesn't stop, headache that is severe or doesn't go away, eye pain, vision changes (such as blurred/double vision, decreased vision), ringing in the ears.
A very serious allergic reaction to this drug is rare. However, get medical help right away if you notice any symptoms of a serious allergic reaction, including: rash, itching/swelling (especially of the face/tongue/throat), severe dizziness, trouble breathing.
This is not a complete list of possible side effects. If you notice other effects not listed above, contact your doctor or pharmacist.
In the US - Call your doctor for medical advice about side effects. You may report side effects to FDA at 1-800-FDA-1088 or at www.fda.gov/medwatch.
In Canada - Call your doctor for medical advice about side effects. You may report side effects to Health Canada at 1-866-234-2345.
Precautions
Before using histrelin, tell your doctor or pharmacist if you are allergic to it; or to similar drugs (such as leuprolide); or if you have any other allergies. This product may contain inactive ingredients, which can cause allergic reactions or other problems. Talk to your pharmacist for more details.
Before using this medication, tell your doctor or pharmacist your medical history, especially of: diabetes, heart disease (such as heart attack), stroke, high cholesterol, seizures, mental/mood problems (such as depression).
If you are a man using this medication for prostate cancer, histrelin may weaken your bones and increase your risk for bone loss (osteoporosis) if used for a long time. Before using this medication, tell your doctor or pharmacist if you have osteoporosis or if you have any of the following risk factors for osteoporosis: long-term alcohol use, smoking, family history of osteoporosis and broken bones, use of certain medications (including corticosteroids such as prednisone, certain anti-seizure drugs such as phenytoin).
Histrelin may cause a condition that affects the heart rhythm (QT prolongation). QT prolongation can rarely cause serious (rarely fatal) fast/irregular heartbeat and other symptoms (such as severe dizziness, fainting) that need medical attention right away.
The risk of QT prolongation may be increased if you have certain medical conditions or are taking other drugs that may cause QT prolongation. Before using histrelin, tell your doctor or pharmacist of all the drugs you take and if you have any of the following conditions: certain heart problems (heart failure, slow heartbeat, QT prolongation in the EKG), family history of certain heart problems (QT prolongation in the EKG, sudden cardiac death).
Low levels of potassium or magnesium in the blood may also increase your risk of QT prolongation. This risk may increase if you use certain drugs (such as diuretics/"water pills") or if you have conditions such as severe sweating, diarrhea, or vomiting. Talk to your doctor about using histrelin safely.
Older adults may be more sensitive to the side effects of this drug, especially QT prolongation (see above).
This medication must not be used during pregnancy. It may harm an unborn baby. Discuss the use of reliable forms of birth control (such as condoms, birth control pills) with your doctor. If you become pregnant or think you may be pregnant, tell your doctor right away.
It is unknown if this medication passes into breast milk. Consult your doctor before breast-feeding.
Interactions
Drug interactions may change how your medications work or increase your risk for serious side effects. This document does not contain all possible drug interactions. Keep a list of all the products you use (including prescription/nonprescription drugs and herbal products) and share it with your doctor and pharmacist. Do not start, stop, or change the dosage of any medicines without your doctor's approval.
Does Vantas Kit interact with other drugs you are taking?
Enter your medication into the WebMD interaction checker
Overdose
This implant may be harmful if swallowed. If someone has swallowed it and has serious symptoms such as passing out or trouble breathing, call 911. Otherwise, call a poison control center right away. US residents can call their local poison control center at 1-800-222-1222. Canada residents can call a provincial poison control center.
Lab and/or medical tests (such as blood testosterone level, PSA blood test if using for prostate cancer, blood testosterone/estradiol level, height, bone age if using for early puberty, blood glucose) should be done while you are using this medication. Keep all medical and lab appointments. Consult your doctor for more details.
If you have radiology tests (X-rays, MRI), the histrelin implant will not be affected or affect the results of these tests. This implant does not show up on X-ray examination. However, make sure radiology personnel and all your doctors know you use this product.
Rarely, the implant can come out of the upper arm. If this occurs or you suspect that this has occurred, call your doctor. Keep all appointments so your doctor can make sure the implant is in place and working.
To help prevent a missed dose, mark your calendar to keep track of when to schedule the placement of your next implant.
Before implantation, the product should be refrigerated. Protect from light and do not freeze.
Do not flush medications down the toilet or pour them into a drain unless instructed to do so. Properly discard this product when it is expired or no longer needed. Consult your pharmacist or local waste disposal company.
Images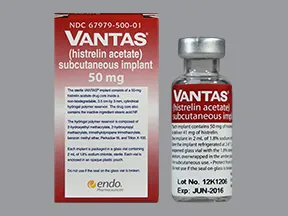 Vantas 50 mg (50 mcg/day) implant kit
Color:
Shape:
Imprint:
This medicine is a kit
Drug Survey
Are you currently using Vantas Kit?
This survey is being conducted by the WebMD marketing sciences department.
Selected from data included with permission and copyrighted by First Databank, Inc. This copyrighted material has been downloaded from a licensed data provider and is not for distribution, except as may be authorized by the applicable terms of use.
CONDITIONS OF USE: The information in this database is intended to supplement, not substitute for, the expertise and judgment of healthcare professionals. The information is not intended to cover all possible uses, directions, precautions, drug interactions or adverse effects, nor should it be construed to indicate that use of a particular drug is safe, appropriate or effective for you or anyone else. A healthcare professional should be consulted before taking any drug, changing any diet or commencing or discontinuing any course of treatment.