Green Eggs and Ham Video Recipe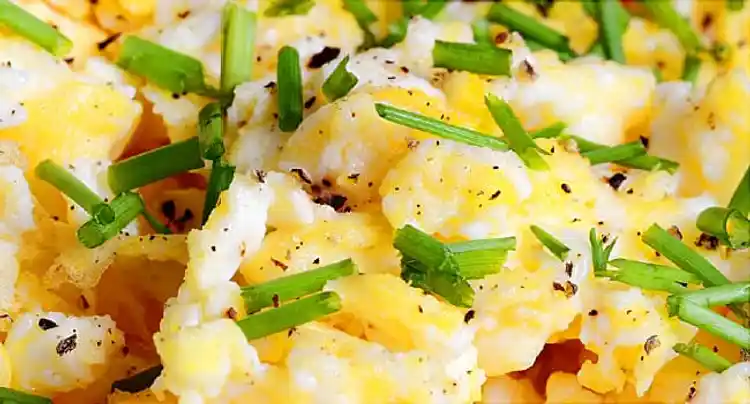 Video Transcript
[MUSIC PLAYING]
LIZZIE
Hi. I'm Lizzie, and I'm here to show you how to cook up one of my special favorites-- a breakfast that's fresh and fun. I like to call it Green Eggs and Ham.
This recipe starts with two eggs per serving. And my friend Lilly here, brought us some eggs straight from her backyard, where her family keeps their very own chickens.
[CHICKENS CLUCKING]
Do you notice a difference when you eat other eggs?
LILLY
I actually do. These taste a lot fresher and better.
LIZZIE
I like to use cage-free, all natural eggs. And since not everybody has their own chickens like Lilly's family, any fresh eggs will do. We're going to take one egg and crack it into the mixing bowl.
For the second egg, we're going to do a little healthy twist. Crack that one into a second small bowl, then discard the yolk. We do that because the egg whites have less cholesterol.
Then we need to get out the yolk. Just push it out of there, just like that. So we're going to add the egg white into your mixing bowl with the whole egg.
Then we're going take some pesto, which is an Italian blend of crushed herbs and garlic and pine nuts. So can you go ahead and add a spoonful of this to the eggs?
The pesto is super delicious. See how green it is? The pesto adds a really fun color to the dish. Now scramble it all up. See how it mixes in with the eggs and gets that really nice green color?
LILLY
I think it's a really great color. I could probably make my own pesto, because in my garden, we have fresh basil. So it would be really fun.
LIZZIE
That's great. Now we're ready to get cooking. Let's go to the stove and turn it on medium heat. Now remember, before you use anything hot or dangerous, especially in the kitchen, whether it's an electric stove like I have here, or a flame, or even just a knife, make sure there's a grown-up watching you. Safety in the kitchen is really important.
When your pan heats up, add a small spoonful of olive oil and move it around to coat your pan. You can also use butter, but olive oil is healthier, because it's rich in what people like to call good fat, or healthy fat.
SPEAKER 1
Huh?
LIZZIE
I know that sounds funny, but healthy fat helps your body break down vitamins. It's like if your body was a car engine, food would be the gas. And the healthy fat would be the grease that keeps all the parts moving smoothly.
SPEAKER 2
Yahoo!
[REVVING MOTOR]
LIZZIE
Now, Lilly, if you would hand me the egg mixture, please, we'll go ahead and pour it right into the pan. Then we're going to add ham. I prefer to use prosciutto, which is a special Italian ham. If you can't get prosciutto, you can always substitute Canadian bacon. And if you don't eat red meat, you can use cooked turkey bacon. Or they even make tofu bacon for vegetarians.
So let's tear off some bite-sized pieces and go ahead and put it right into the egg mixture, just like that. Perfect. Once it's all in there, we're going to slowly move the eggs in a push-pull motion with a spatula.
LILLY
How do you know when it's ready?
LIZZIE
You know it's ready when the scramble no longer looks wet. Here, Lilly, give it a try. Perfect. A tip about making scrambled eggs is that you want to keep the eggs moving so you that don't burn them. That way, you'll get a nice scrambled eggs texture.
In all, it usually takes about three or four minutes until they're ready. Mmm, doesn't it smell good?
LILLY
It smells great.
LIZZIE
So we're about ready to serve breakfast. But first, you should top the eggs off with a pinch of Parmesan cheese like this. A pinch of mozzarella cheese will work too. You'll only need a light sprinkle.
And ta-da! Green Eggs and Ham. I suggest you serve it with either a small fruit salad on the side, topped with a drizzle of honey, or agave and sesame seeds or chopped walnuts. You can also serve it with a side of whole-grain toast topped with some fresh fruit preserves. Just make sure the spread has no added sugar. It will say so right on the label.
And there you have it, a breakfast that's not only delicious and colorful, but really wholesome too. What do you think?
LILLY
It's so good.
LIZZIE
I told you so.
LILLY
Oh, boy.
LIZZIE
See you next time. Bye.
[MUSIC PLAYING]