Uses
How to use Tykerb
Read the Patient Information Leaflet if available from your pharmacist before you start using lapatinib and each time you get a refill. If you have any questions, ask your doctor or pharmacist.
Take this medication by mouth 1 hour before or 1 hour after a meal as directed by your doctor, usually once daily. It is important that you do not take this medication more than once daily.
The dosage is based on your medical condition, response to treatment, and other medications you may be taking. Be sure to tell your doctor and pharmacist about all the products you use (including prescription drugs, nonprescription drugs, and herbal products).
Do not increase your dose or take this medication more often than prescribed. Your condition will not improve any faster, and the risk of serious side effects may be increased.
Avoid eating grapefruit or drinking grapefruit juice while using this medication unless your doctor or pharmacist says you may do so safely. Grapefruit can increase the chance of side effects with this medicine. Ask your doctor or pharmacist for more details.
Since this drug can be absorbed through the skin and lungs, women who are pregnant or who may become pregnant should not handle this medication or breathe the dust from the tablets.
Follow your doctor's instructions on how to correctly take capecitabine or letrozole with lapatinib.
Side Effects
See also Warning section.
Nausea, vomiting, upset stomach, mouth sores, mild rash, dry skin, and trouble sleeping may occur. If any of these effects last or get worse, tell your doctor or pharmacist promptly.
Diarrhea is a common side effect and may become severe. Tell your doctor right away if diarrhea occurs or if you have signs of dehydration such as dizziness or decreased urination. Your doctor should prescribe additional medication to help control your symptoms. If your diarrhea becomes severe, your doctor may need to stop or delay your lapatinib treatment.
Treatment with this drug may sometimes cause your hands/feet to develop a skin reaction called hand-foot syndrome (palmar-plantar erythrodysesthesia). Tell your doctor right away if you experience swelling, pain, redness, peeling, blisters, or tingling/burning of the hands/feet. The symptoms can be made worse by heat/pressure on your hands/feet. Avoid prolonged sun exposure, tanning booths, and sunlamps, as well as unnecessary exposure to heat (such as hot dishwater, long hot baths). Use a sunscreen and wear protective clothing when outdoors. Avoid pressure on elbows, knees, and soles of feet (such as leaning on elbows, kneeling, taking long walks). Wear loose clothing and comfortable shoes. Depending on how severe your hand-foot syndrome is, your doctor may give you an additional medication to reduce the symptoms, or stop or delay your lapatinib treatment.
Remember that this medication has been prescribed because your doctor has judged that the benefit to you is greater than the risk of side effects. Many people using this medication do not have serious side effects.
Tell your doctor right away if you have any serious side effects, including: unusual tiredness, shortness of breath, swelling ankles/feet.
Get medical help right away if you have any very serious side effects, including: fast/pounding/irregular heartbeat, dizziness, fainting.
A very serious allergic reaction to this drug is rare. However, get medical help right away if you notice any symptoms of a serious allergic reaction, including: rash, itching/swelling (especially of the face/tongue/throat), severe dizziness, trouble breathing.
This is not a complete list of possible side effects. If you notice other effects not listed above, contact your doctor or pharmacist.
In the US - Call your doctor for medical advice about side effects. You may report side effects to FDA at 1-800-FDA-1088 or at www.fda.gov/medwatch.
In Canada - Call your doctor for medical advice about side effects. You may report side effects to Health Canada at 1-866-234-2345.
Precautions
Before taking lapatinib, tell your doctor or pharmacist if you are allergic to it; or if you have any other allergies. This product may contain inactive ingredients, which can cause allergic reactions or other problems. Talk to your pharmacist for more details.
Before using this medication, tell your doctor or pharmacist your medical history, especially of: heart disease (such as irregular heartbeat), liver disease.
Lapatinib may cause a condition that affects the heart rhythm (QT prolongation). QT prolongation can rarely cause serious (rarely fatal) fast/irregular heartbeat and other symptoms (such as severe dizziness, fainting) that need medical attention right away.
The risk of QT prolongation may be increased if you have certain medical conditions or are taking other drugs that may cause QT prolongation. Before using lapatinib, tell your doctor or pharmacist of all the drugs you take and if you have any of the following conditions: certain heart problems (heart failure, slow heartbeat, QT prolongation in the EKG), family history of certain heart problems (QT prolongation in the EKG, sudden cardiac death).
Low levels of potassium or magnesium in the blood may also increase your risk of QT prolongation. This risk may increase if you use certain drugs (such as diuretics/"water pills") or if you have conditions such as severe sweating, diarrhea, or vomiting. Talk to your doctor about using lapatinib safely.
Older adults may be more sensitive to the side effects of this drug, especially QT prolongation (see above).
Tell your doctor if you are pregnant or plan to become pregnant. You should not become pregnant while using lapatinib. Lapatinib may harm an unborn baby. Women and men using this medication should ask about reliable forms of birth control during treatment and for 1 week after stopping treatment. If you or your partner become pregnant, talk to your doctor right away about the risks and benefits of this medication.
It is unknown if this drug passes into breast milk. Because of the possible risk to the infant, breast-feeding is not recommended while using this medication and for 1 week after stopping this medication. Consult your doctor before breast-feeding.
Interactions
Drug interactions may change how your medications work or increase your risk for serious side effects. This document does not contain all possible drug interactions. Keep a list of all the products you use (including prescription/nonprescription drugs and herbal products) and share it with your doctor and pharmacist. Do not start, stop, or change the dosage of any medicines without your doctor's approval.
This medication can slow down the removal of other medications from your body, which may affect how they work. Examples of affected drugs include certain "statin" cholesterol medications (simvastatin, lovastatin, atorvastatin), digoxin, irinotecan, tacrolimus, trazodone, among others.
Other medications can affect the removal of lapatinib from your body, which may affect how lapatinib works. Examples include cimetidine, dexamethasone, ritonavir, St. John's wort, azole antifungals (such as itraconazole, ketoconazole), macrolide antibiotics (such as erythromycin, clarithromycin), HIV protease inhibitors (such as saquinavir), rifamycins (such as rifabutin), certain anti-seizure medicines (such as phenytoin), among others.
Many drugs besides lapatinib may affect the heart rhythm (QT prolongation), including dofetilide, pimozide, procainamide, amiodarone, quinidine, sotalol, macrolide antibiotics (such as erythromycin), among others. Before using lapatinib, report all medications you are currently using to your doctor or pharmacist.
Does Tykerb interact with other drugs you are taking?
Enter your medication into the WebMD interaction checker
Overdose
If someone has overdosed and has serious symptoms such as passing out or trouble breathing, call 911. Otherwise, call a poison control center right away. US residents can call their local poison control center at 1-800-222-1222. Canada residents can call a provincial poison control center. Symptoms of overdose may include: severe diarrhea/vomiting.
Do not share this medication with others.
Lab and/or medical tests (such as EKG, electrolyte levels, heart/liver function) should be done while you are taking this medication. Keep all medical and lab appointments. Consult your doctor for more details.
It is important to take each dose of this medication as scheduled. If you miss a dose, take it as soon as you remember. If it is near the time of the next dose, skip the missed dose. Take your next dose at the regular time. Do not double the dose to catch up.
Store at room temperature away from light and moisture. Do not store in the bathroom. Keep all medications away from children and pets.
Do not flush medications down the toilet or pour them into a drain unless instructed to do so. Properly discard this product when it is expired or no longer needed. Consult your pharmacist or local waste disposal company.
Images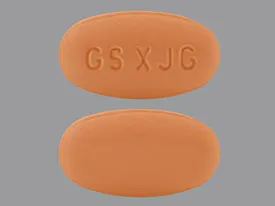 Tykerb 250 mg tablet
Color: orange
Shape: oval
Imprint: GS XJG
This medicine is a orange, oval, film-coated, tablet imprinted with "GS XJG".
Drug Survey
Are you currently using Tykerb?
This survey is being conducted by the WebMD marketing sciences department.
Selected from data included with permission and copyrighted by First Databank, Inc. This copyrighted material has been downloaded from a licensed data provider and is not for distribution, except as may be authorized by the applicable terms of use.
CONDITIONS OF USE: The information in this database is intended to supplement, not substitute for, the expertise and judgment of healthcare professionals. The information is not intended to cover all possible uses, directions, precautions, drug interactions or adverse effects, nor should it be construed to indicate that use of a particular drug is safe, appropriate or effective for you or anyone else. A healthcare professional should be consulted before taking any drug, changing any diet or commencing or discontinuing any course of treatment.