Warnings:
When used to treat a certain penis condition (Peyronie's disease), this drug has rarely caused very serious injury to the penis (such as penile fracture/hematoma). The injury could be permanent and/or require surgery to fix. Tell your doctor right away if you develop symptoms of serious injury to your penis, such as severe pain/bruising/swelling of the penis, loss of ability to maintain an erection, difficulty urinating, blood in the urine, or a popping sound/feeling in an erect penis.
To receive this medication for treatment of Peyronie's disease in the United States, you must understand, agree to, and carefully follow the requirements of the Xiaflex REMS Program. If you live in Canada or any other country, consult your doctor and pharmacist for your country's regulations.
How to use Xiaflex Vial
Read the Medication Guide provided by your healthcare professional before each injection. If you have any questions, ask your doctor or pharmacist.
If you are using this medication to treat Dupuytren's contracture, the medication is injected into the tissue knot (cord) of the affected hand by your healthcare provider. Your hand will be wrapped in soft gauze after the injection. Limit hand movement and keep the hand elevated until bedtime. Do not try to straighten, curl, or move the injected finger until your doctor tells you it is okay to do so. Tell your doctor right away if you start to feel numbness, tingling, or a feeling of "pins and needles" in your hand during the procedure.
You must return to your doctor's office within 1 to 3 days after the procedure. Your doctor will check your hand, try to straighten the finger if needed, and apply a splint. Wear the splint every night at bedtime as long as directed by your doctor (for up to 4 months). Do finger exercises several times a day exactly as directed. Do not do any strenuous activity with the treated hand until your doctor tells you it is okay to do so. Tell your doctor if you have trouble bending the finger after the swelling goes down or problems using your hand.
If you are still unable to straighten your finger after 4 weeks, your doctor may give a repeat injection into the same area of the hand. No more than 3 injections, each 4 weeks apart, should be given in the same area.
If you are using this medication to treat Peyronie's disease, the medication is injected into the plaque in the penis by your healthcare provider. Each treatment cycle consists of two injections 1 to 3 days apart and a modeling (straightening) procedure 1 to 3 days after the second injection. Do not have sex between the first and second injections of a treatment cycle. Also, do not have any sexual activity for at least 4 weeks after the second injection of a treatment cycle and only after your doctor says that it is safe to do so (usually after all the pain/swelling has gone away). You might have as many as 4 treatment cycles. Each treatment cycle is about 6 weeks apart. In between cycles, follow your doctor's instructions on straightening and stretching the penis. Tell your doctor if you have trouble stretching or straightening your penis or if new pain occurs.
Side Effects
See also How to Use and Warning sections.
Pain, swelling, bruising, bleeding, redness, itching at or around the injection site may occur. Swollen, painful areas in the elbow and underarm (swollen lymph nodes) may also occur when this medication is injected in the hand. If any of these effects last or get worse, tell your doctor promptly.
Tell your doctor right away if you have dizziness or feel faint. Sitting or lying down may help.
Remember that this medication has been prescribed because your doctor has judged that the benefit to you is greater than the risk of side effects. Many people using this medication do not have serious side effects.
If treating Dupuytren's contracture, tell your doctor right away if you have any serious side effects, including: signs of infection (such as fever, chills, increasing redness/swelling), signs of nerve injury (such as numbness/tingling/pain/strange feeling in the treated hand), tears in the skin around the injection site (lacerations).
Serious (possibly permanent) injury to the tendons/ligaments of the hand is a rare side effect of this drug/procedure. The injury may require surgery to repair. Tell your doctor right away if you have difficulty moving your fingers or hand after your doctor has told you it is okay to move them.
Some people using this medication for Peyronie's disease have developed lower back pain soon after receiving an injection. Tell your doctor right away if you have sudden lower back pain or back pain that spreads to your legs, feet, arms, or chest. The back pain may also include spasms and make it hard to walk. These symptoms usually go away after 15 minutes but may last longer.
A very serious allergic reaction to this drug is rare. However, get medical help right away if you notice any symptoms of a serious allergic reaction, including: rash, itching/swelling (especially of the face/tongue/throat), severe dizziness, trouble breathing.
This is not a complete list of possible side effects. If you notice other effects not listed above, contact your doctor or pharmacist.
In the US - Call your doctor for medical advice about side effects. You may report side effects to FDA at 1-800-FDA-1088 or at www.fda.gov/medwatch.
In Canada - Call your doctor for medical advice about side effects. You may report side effects to Health Canada at 1-866-234-2345.
Precautions
Before using collagenase, tell your doctor or pharmacist if you are allergic to it; or if you have any other allergies. This product may contain inactive ingredients, which can cause allergic reactions or other problems. Talk to your pharmacist for more details.
Before using this medication, tell your doctor or pharmacist your medical history, especially of: bleeding/clotting problems.
If you are using this medication to treat Peyronie's disease, do not use a vacuum erection device during your treatment with this medication. Also, avoid straining your stomach/abdominal muscles, such as straining during bowel movements.
Before having surgery, tell your doctor or dentist about all the products you use (including prescription drugs, nonprescription drugs, and herbal products).
Tell your doctor if you are pregnant before using this medication.
It is unknown if this medication passes into breast milk. Consult your doctor before breast-feeding.
Consult your pharmacist or physician.
Interactions
Drug interactions may change how your medications work or increase your risk for serious side effects. This document does not contain all possible drug interactions. Keep a list of all the products you use (including prescription/nonprescription drugs and herbal products) and share it with your doctor and pharmacist. Do not start, stop, or change the dosage of any medicines without your doctor's approval.
Some products that may interact with this drug include: drugs that can cause bleeding/bruising (including aspirin, antiplatelet drugs such as clopidogrel, NSAIDs such as ibuprofen, "blood thinners" such as warfarin).
Your doctor may tell you to stop taking these medications 7 days before your injection. If so, ask your doctor when it is safe to start taking them again.
If your doctor has directed you to take low-dose aspirin for heart attack or stroke prevention (usually 81-162 milligrams a day), you should continue taking the aspirin unless your doctor instructs you otherwise. Ask your doctor or pharmacist about using those products safely.
Does Xiaflex Vial interact with other drugs you are taking?
Enter your medication into the WebMD interaction checker
Overdose
Keep all regular medical and laboratory appointments.
It is important to get each dose of this medication as scheduled. If you miss a dose, ask your doctor right away for a new dosing schedule.
Not applicable. This medication is given in a doctor's office and will not be stored at home.
Images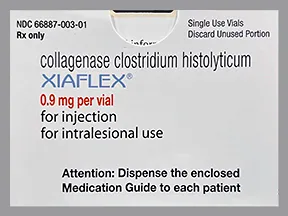 Xiaflex 0.9 mg solution for injection
Color:
Shape:
Imprint:
This medicine is a vial
Find other drugs that treat your condition