Uses
This medication is used to treat certain types of cancer (such as multiple myeloma, ovarian). Melphalan belongs to a class of drugs known as alkylating agents. It works by slowing or stopping the growth of cancer cells.
How to use Melphalan Tablet
Take this medication by mouth as directed by your doctor, usually once a day. Unless otherwise directed by your doctor, drink plenty of fluids to help prevent side effects.
The dosage and treatment schedule are based on your medical condition and response to treatment. Carefully follow your doctor's directions for taking this medication.
Do not increase your dose or take this medication more often than prescribed. Your condition will not improve any faster, and your risk of serious side effects will increase.
It may take several months before you see a benefit from this drug.
Since this drug can be absorbed through the skin and lungs and may harm an unborn baby, women who are pregnant or who may become pregnant should not handle this medication or breathe the dust from the tablets.
Side Effects
See also Warning section.
Nausea, vomiting, diarrhea, lip/mouth sores, and loss of appetite may occur. Nausea and vomiting can be severe. In some cases, your doctor may prescribe medication to prevent or relieve nausea and vomiting. Eating several small meals, not eating before treatment, or limiting activity may help lessen some of these effects. If any of these effects last or get worse, tell your doctor or pharmacist promptly.
Temporary hair loss may occur. Normal hair growth should return after treatment has ended.
People using this medication may have serious side effects. However, you have been prescribed this drug because your doctor has judged that the benefit to you is greater than the risk of side effects. Careful monitoring by your doctor may decrease your risk.
Tell your doctor right away if you have any serious side effects, such as: shortness of breath, stopped menstrual periods (women), symptoms of liver problems (such as stomach/abdominal pain, yellowing eyes/skin, dark urine).
A very serious allergic reaction to this drug is rare. However, get medical help right away if you notice any symptoms of a serious allergic reaction, such as: rash, itching/swelling (especially of the face/tongue/throat), severe dizziness, trouble breathing.
This is not a complete list of possible side effects. If you notice other effects not listed above, contact your doctor or pharmacist.
In the US - Call your doctor for medical advice about side effects. You may report side effects to FDA at 1-800-FDA-1088 or at www.fda.gov/medwatch.
In Canada - Call your doctor for medical advice about side effects. You may report side effects to Health Canada at 1-866-234-2345.
Warnings
Although melphalan is used to treat cancer, it may rarely increase your risk of developing other cancers. Also, melphalan may cause a severe decrease in your blood cells, which lowers your ability to fight infections and increases the risk of anemia/bleeding problems. You may be more likely to get a serious (rarely fatal) infection or any infection you have may get worse. Tell your doctor right away if you develop unusual growths or lumps, swollen glands, signs of infection (such as a sore throat that doesn't go away, fever, chills), easy or unusual bruising/bleeding, or unusual tiredness.
Taking melphalan during pregnancy may increase the risk of birth defects. Also, it may make it harder for men or women to have a child (decreased fertility) after treatment.
Talk with your doctor about the risks and benefits of treatment with this medication.
Precautions
Before taking melphalan, tell your doctor or pharmacist if you are allergic to it; or to chlorambucil; or if you have any other allergies. This product may contain inactive ingredients, which can cause allergic reactions or other problems. Talk to your pharmacist for more details.
Before using this medication, tell your doctor or pharmacist your medical history, especially of: bleeding/blood problems, kidney problems, radiation treatment.
Melphalan can make you more likely to get infections or may make current infections worse. Stay away from anyone who has an infection that may easily spread (such as chickenpox, COVID-19, measles, flu). Talk to your doctor if you have been exposed to an infection or for more details.
Tell your health care professional that you are using melphalan before having any immunizations/vaccinations. Avoid contact with people who have recently received live vaccines (such as flu vaccine inhaled through the nose).
To lower the chance of getting cut, bruised, or injured, use caution with sharp objects like razors and nail cutters, and avoid activities such as contact sports.
Before having surgery, tell your doctor or dentist about all the products you use (such as prescription drugs, nonprescription drugs, and herbal products).
Tell your doctor if you are pregnant or plan to become pregnant. You should not become pregnant while you are using melphalan. Melphalan may harm an unborn baby. If you become pregnant, talk to your doctor right away about the risks and benefits of this medication.
Since this drug can be absorbed through the skin and lungs and may harm an unborn baby, women who are pregnant or who may become pregnant should not handle this medication or breathe the dust from the tablets.
It is unknown if this drug passes into breast milk. Because of the possible risk to the infant, breast-feeding while using this drug is not recommended. Consult your doctor before breast-feeding.
Interactions
Drug interactions may change how your medications work or increase your risk for serious side effects. This document does not contain all possible drug interactions. Keep a list of all the products you use (such as prescription/nonprescription drugs and herbal products) and share it with your doctor and pharmacist. Do not start, stop, or change the dosage of any medicines without your doctor's approval.
Does Melphalan Tablet interact with other drugs you are taking?
Enter your medication into the WebMD interaction checker
Overdose
If someone has overdosed and has serious symptoms such as passing out or trouble breathing, call 911. Otherwise, call a poison control center right away. US residents can call their local poison control center at 1-800-222-1222. Canada residents can call a provincial poison control center.
It is important to get each dose of this medication as scheduled. If you miss a dose, ask your doctor or pharmacist right away for a new dosing schedule. Do not double the dose to catch up.
Store in the refrigerator away from light and moisture. Keep all medications away from children and pets.
Do not flush medications down the toilet or pour them into a drain unless instructed to do so. Properly discard this product when it is expired or no longer needed. Consult your pharmacist or local waste disposal company.
Images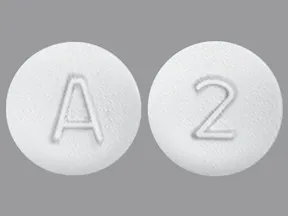 melphalan 2 mg tablet
Color: white
Shape: round
Imprint: A 2
This medicine is a white, round, tablet imprinted with "A" and "2".
Drug Survey
Are you currently using Melphalan Tablet?
This survey is being conducted by the WebMD marketing sciences department.
Selected from data included with permission and copyrighted by First Databank, Inc. This copyrighted material has been downloaded from a licensed data provider and is not for distribution, except as may be authorized by the applicable terms of use.
CONDITIONS OF USE: The information in this database is intended to supplement, not substitute for, the expertise and judgment of healthcare professionals. The information is not intended to cover all possible uses, directions, precautions, drug interactions or adverse effects, nor should it be construed to indicate that use of a particular drug is safe, appropriate or effective for you or anyone else. A healthcare professional should be consulted before taking any drug, changing any diet or commencing or discontinuing any course of treatment.