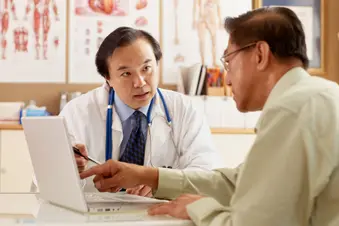 You know managing your type 2 diabetes may bring challenges, but you shouldn't feel this way in your doctor's exam room. If you feel that you have unanswered questions about your condition, you may be able find ways to share your concerns and get better care. Being your own advocate and speaking up is key for managing your type 2 diabetes.
What Is Self-Advocacy?
Self-advocacy is representing your own interests as you manage your condition. It will help you as you  find, evaluate, and use information for your health. Learning to be your own advocate can help you feel like you're in control of your type 2 diabetes, rather than the other way around, says Sneha Srivastava, PharmD, a certified diabetes care and education specialist in Chicago.
Learn What You Can About Type 2 Diabetes
You want to educate yourself and put a healthy living plan into action, with the understanding that you may need to tweak your plan along the way. "Learning as much as you can about type 2 diabetes is important. It's the knowledge plus action that leads to healthy blood sugar levels and not having the complications associated with high blood sugars," Srivastava says.
To start, know your numbers (A1c, blood pressure, cholesterol levels) and what they mean. Get familiar with technology options you may have, Srivastava advises. There are apps and devices that can help you manage different aspects of diabetes. These include free phone apps to log what you eat or continuous glucose meters that can measure your blood sugar.
"Understand the 'How' and 'Why' of your medication," Srivastava says. "There now are meds that help lower your blood sugar, protect your kidneys or heart, or help you get to a healthy weight. And sometimes, depending on what insurance you have or if you have insurance, there are ways to choose the right medications that are also affordable."
Lifestyle has a big effect, too. Following your treatment plan helps prevent complications such as heart disease, nerve damage, and blindness. Habits like watching your intake of refined carbs, staying active, and managing stress can keep you off medication.
All this may seem like a big ask at first. For help, you can ask for a referral to a diabetes care and education specialist (DCES). They'll guide you through any fears or issues and to learn what to expect at your next appointment.
 
How to Self-Advocate When You Face Care Disparities 
Diabetes affects more than 34 million people in the United States, but it doesn't affect all communities equally, according to the CDC. Managing type 2 diabetes can be especially important for Black, Native American, and Hispanic men and women. These groups are at a greater risk of getting type 2 diabetes, but often face an uphill battle when it comes to diagnosis and treatment. 
"There are very real statistics that show people of color have higher rates of type 2 diabetes and complications from diabetes. What contributes to this disparity are injustices and unequal access to care and resources that exists in some communities," Srivastava says.  
"Being your own advocate is essential," Srivastava says. According to her, this means ensuring that: 
Everything on your diabetes checklist is being addressed.

You are being referred to the right specialists as soon as you may need to see them.

You feel respected and heard.

Your values, culture, and preferences are being considered in your care. 
If you don't feel that this is the case, you have the right to find a health care provider that does do all of this and makes you feel a part of the team, Srivastava says."No matter your race, ethnicity, or gender, diabetes can be managed in a healthy way [with care] based on patient preferences." 
Work With Your Health Care Team 
Diabetes can affect you from head to toe, so make sure you are being referred to get your eyes checked, teeth cleaned, feet looked at, lab tests taken, and anything else in between. It takes a medical team to help keep you in your best health with type 2 diabetes.
"Knowing where to get your information is just as important as the information itself," Srivastava says. "Your health care team can help you navigate to find the right resources. It's easy to get overwhelmed because there is so much information about diabetes, but you don't need to know it all at once."
 
How to Be a Self-Advocate
Be open and honest. Don't be afraid of being judged. Even if you're not usually comfortable speaking up, try to push yourself. If something isn't working, your doctors may not know if you don't tell them. It can mean the difference in your care and quality of life.
"It is very natural to be hesitant or feel uncomfortable bringing up what you may need for your diabetes care during medical appointments," Srivastava says. "It can be overwhelming, and sometimes, appointments can feel rushed." There are things you can do to make it easier for you to be a part of the conversation:
Come prepared. Keep a diabetes notebook with all your information and all your questions to bring to your appointments.
Bring support. A trusted friend or family member can be calming and can also help you remember all that is said during the visit.
"Too many times, people with diabetes are just told to eat better, move more, and take medications," Srivastava says. "But what if … the medication costs too much, or you can't figure out how to make the time to cook, or exercise isn't working because your knees hurt too much?"
"When you are part of the conversation, you can share what your barriers or challenges are to change, discuss what you are able and willing to do, and understand the recommendations being made," Srivastava says. "And lastly, to be an advocate means trusting yourself. If something doesn't feel right or if you feel like you are not truly understanding the recommendations or how to incorporate them, share and ask."
And when your treatment plan is working well, keep communicating with your doctors and pass along the good news. "At the center of this team is you, the person with diabetes. You know your body, experiences, goals, expectations, questions, and schedule," Srivastava says. "You know how you're going to best be able to make the changes to keep your blood sugar at healthy levels and keep the complications away."
Show Sources
Photo Credit: LWA / Dann Tardif / Getty Images
SOURCES: 
Sneha Srivastava, PharmD, clinical pharmacy specialist, certified diabetes care and education specialist, and lifestyle medicine practitioner, Chicago.
Mayo Clinic: "Diabetes Management: How Lifestyle, Daily Routine Affect Blood Sugar," "Diabetes Care: 10 Ways to Avoid Complications."
Association of Diabetes Care & Education Specialists: "About Diabetes Education." 

CDC: "National Diabetes Statistics Report 2020," "How People with Diabetes Benefit from Diabetes Self-Management Education and Support (DSMES) Toolkit," "Managing Diabetes."
National Library of Medicine: "Diabetes Type 2."
American Diabetes Association: "Health Checks for People with Diabetes," "Getting to Know Your Diabetes Care Team," "Getting the Very Best Care for Your Diabetes."
Diabetes Care: "Diabetes Self-management Education and Support in Adults with Type 2 Diabetes: A Consensus Report of the American Diabetes Association, the Association of Diabetes Care & Education Specialists, the Academy of Nutrition and Dietetics, the American Academy of Family Physicians, the American Academy of PAs, the American Association of Nurse Practitioners, and the American Pharmacists Association."
The diaTribe Foundation: "Health Equity: What It Means, Why We Care, and What You Can Do."
The Permanente Journal: "Understanding the Social Factors That Contribute to Diabetes: A Means to Informing Health Care and Social Policies for the Chronically Ill."
The Journal of Internet Medical Research (JIMR) Diabetes: "Effect of Diabetes Online Community Engagement on Health Indicators: Cross-Sectional Study."