Uses
Pertuzumab is used to treat certain types of breast cancer. It is also used to treat early stage breast cancer in patients who will be having surgery to remove the cancer. The types of cancers pertuzumab is used to treat are tumors that produce more than the normal amount of a certain substance called HER2 protein.This medication is called a monoclonal antibody. It works by attaching to the HER2 cancer cells and blocking them from dividing and growing. It may also destroy the cancer cells or signal the body (immune system) to destroy the cancer cells.
How to use Perjeta Vial
This medication is given by a health care professional. It is injected slowly into a vein as directed by your doctor, usually once every 3 weeks. Your first infusion will be given over 60 minutes.
The dosage, the speed of your injection, and the length of time you receive pertuzumab is based on your medical condition, other treatments you are taking, and your response to pertuzumab treatment.
A health care professional should watch you for at least 60 minutes after your first infusion is finished and 30 minutes after the following infusions to make sure you do not have an infusion reaction (see also Side Effects section).
Use this medication regularly to get the most benefit from it. To help you remember, mark the days on the calendar when you need to receive the medication.
Side Effects
Diarrhea, nausea, vomiting, tiredness, and loss of appetite may occur. If any of these effects last or get worse, tell your doctor or pharmacist promptly.
Temporary hair loss may occur. Normal hair growth should return after treatment has ended.
Remember that this medication has been prescribed because your doctor has judged that the benefit to you is greater than the risk of side effects. Many people using this medication do not have serious side effects.
Tell your doctor right away if you have any serious side effects, including: trouble breathing, numbness/tingling of arms/legs, symptoms of heart failure (such as shortness of breath, swelling ankles/feet, unusual tiredness, unusual/sudden weight gain).
Pertuzumab can commonly cause a rash that is usually not serious. However, you may not be able to tell it apart from a rare rash that could be a sign of a severe reaction. Tell your doctor right away if you develop any rash.
This medication may lower your ability to fight infections. This may make you more likely to get a serious (rarely fatal) infection or make any infection you have worse. Tell your doctor right away if you have any signs of infection (such as sore throat that doesn't go away, fever, chills, cough).
This medication can sometimes cause a serious infusion (IV) reaction. Immediately tell your doctor if the following side effects occur while this drug is being given: chills, fever, headache, rash, vomiting, and weakness. Your doctor may decrease the speed of your injection.
A very serious allergic reaction to this drug is rare. However, get medical help right away if you notice any symptoms of a serious allergic reaction, including: rash, itching/swelling (especially of the face/tongue/throat), severe dizziness, trouble breathing.
This is not a complete list of possible side effects. If you notice other effects not listed above, contact your doctor or pharmacist.
In the US - Call your doctor for medical advice about side effects. You may report side effects to FDA at 1-800-FDA-1088 or at www.fda.gov/medwatch.
In Canada - Call your doctor for medical advice about side effects. You may report side effects to Health Canada at 1-866-234-2345.
Warnings
Pertuzumab can cause serious (possibly fatal) harm to an unborn baby if used during pregnancy. It should only be used during pregnancy if the benefits outweigh these risks. It is important that men and women using this medication use reliable forms of birth control (such as condoms, birth control pills) while using this medication and for 7 months after treatment stops. If you become pregnant, think you may be pregnant, or cause a pregnancy, tell your doctor right away.
Precautions
Before using pertuzumab, tell your doctor or pharmacist if you are allergic to it; or if you have any other allergies. This product may contain inactive ingredients, which can cause allergic reactions or other problems. Talk to your pharmacist for more details.
Before using this medication, tell your doctor or pharmacist your medical history, especially of: previous cancer treatments (including radiation therapy to the chest), heart disease, high blood pressure, previous severe reaction to monoclonal antibody treatment.
Pertuzumab can make you more likely to get infections or may make current infections worse. Stay away from anyone who has an infection that may easily spread (such as chickenpox, COVID-19, measles, flu). Talk to your doctor if you have been exposed to an infection or for more details.
Tell your health care professional that you are using pertuzumab before having any immunizations/vaccinations. Avoid contact with people who have recently received live vaccines (such as flu vaccine inhaled through the nose).
To lower the chance of getting cut, bruised, or injured, use caution with sharp objects like razors and nail cutters, and avoid activities such as contact sports.
Before having surgery, tell your doctor or dentist about all the products you use (including prescription drugs, nonprescription drugs, and herbal products).
Older adults may be more sensitive to the side effects of this drug, especially tiredness, loss of appetite and numbness/tingling of arms/legs.
Tell your doctor if you are pregnant or plan to become pregnant. You should not become pregnant while using pertuzumab. Pertuzumab may harm an unborn baby. See also Warning section.
It is unknown if this medication passes into breast milk. Because of the possible risk to the infant, breast-feeding is not recommended while using this drug or for 7 months after the last dose. Consult your doctor before breast-feeding.
Interactions
Drug interactions may change how your medications work or increase your risk for serious side effects. This document does not contain all possible drug interactions. Keep a list of all the products you use (including prescription/nonprescription drugs and herbal products) and share it with your doctor and pharmacist. Do not start, stop, or change the dosage of any medicines without your doctor's approval.
Does Perjeta Vial interact with other drugs you are taking?
Enter your medication into the WebMD interaction checker
Overdose
If someone has overdosed and has serious symptoms such as passing out or trouble breathing, call 911. Otherwise, call a poison control center right away. US residents can call their local poison control center at 1-800-222-1222. Canada residents can call a provincial poison control center.
Do not share this medication with others.
Lab and/or medical tests (such as heart exams, HER2 testing) should be done before you start using this medication and while you are using it. A pregnancy test should also be done before starting treatment. Keep all medical and lab appointments. Consult your doctor for more details.
It is important to get each dose of this medication as scheduled. If you miss a dose, ask your doctor or pharmacist right away for a new dosing schedule.
Not applicable. This medication is given in a hospital or clinic and will not be stored at home.
Images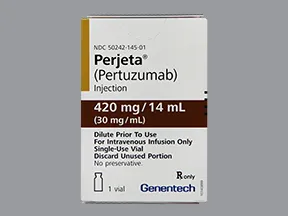 Perjeta 420 mg/14 mL (30 mg/mL) intravenous solution
Color: colorless
Shape:
Imprint:
This medicine is a colorless, clear, vial
Drug Survey
Are you currently using Perjeta Vial?
This survey is being conducted by the WebMD marketing sciences department.
Selected from data included with permission and copyrighted by First Databank, Inc. This copyrighted material has been downloaded from a licensed data provider and is not for distribution, except as may be authorized by the applicable terms of use.
CONDITIONS OF USE: The information in this database is intended to supplement, not substitute for, the expertise and judgment of healthcare professionals. The information is not intended to cover all possible uses, directions, precautions, drug interactions or adverse effects, nor should it be construed to indicate that use of a particular drug is safe, appropriate or effective for you or anyone else. A healthcare professional should be consulted before taking any drug, changing any diet or commencing or discontinuing any course of treatment.