Uses
Calcitriol is a man-made active form of vitamin D. Most people get enough vitamin D from exposure to the sun and from fortified food products (such as dairy products, vitamins). Vitamin D helps control parathyroid hormone and the levels of certain minerals (such as calcium, phosphorus) that are needed for building and keeping strong bones.Before regular vitamin D can be used by the body, it needs to be changed to the active form by the liver and kidneys. Calcitriol is used in patients with kidney disease who can't make enough of the active form of Vitamin D. This medication is also used to prevent and treat certain types of calcium/phosphorus/parathyroid problems that can happen with long-term kidney dialysis or hypoparathyroidism. Calcitriol is usually used along with specific diet recommendations and sometimes other medications.
How to use Rocaltrol
Take this medication by mouth with or without food as directed by your doctor, usually once daily. If you are using the liquid form, measure your dose with a special measuring spoon or device. Do not use a normal household spoon since you may not get the correct dose.
Dosage is based on your medical condition and response to therapy. Your doctor may start you on a low dose and adjust the dose slowly to find the best dose for you. Follow your doctor's directions carefully. Use this medication regularly in order to get the most benefit from it. To help you remember, take it at the same time each day.
It is very important to follow the diet recommended by your doctor to get the most benefit from this medication and to prevent serious side effects. Do not take other supplements/vitamins (such as calcium, vitamin D) unless ordered by your doctor.
Certain medications (bile acid sequestrants such as cholestyramine/colestipol, mineral oil, orlistat) can decrease the absorption of vitamin D. Separate your doses of these medications as far as possible from your doses of calcitriol (at least 2 hours apart, longer if possible). It may be easiest to take calcitriol at bedtime if you are also taking these other medications. Ask your doctor or pharmacist about finding a good dosing schedule that will work with all your medications.
Side Effects
Calcitriol does not usually have side effects. Your doctor may check your calcium and phosphate blood levels and adjust your dose if you have side effects.
Remember that this medication has been prescribed because your doctor has judged that the benefit to you is greater than the risk of side effects. Many people using this medication do not have serious side effects.
Tell your doctor right away if you have any serious side effects, including: loss of appetite, back/bone/joint/muscle pain, constipation, dry mouth, eye pain/redness/sensitivity to light, headache, fast/slow/irregular heartbeat, nausea/vomiting/diarrhea, sleepiness, stomach/abdominal pain, increased thirst, signs of kidney problems (such as change in the amount of urine), weakness.
A very serious allergic reaction to this drug is rare. However, get medical help right away if you notice any symptoms of a serious allergic reaction, including: rash, itching/swelling (especially of the face/tongue/throat), severe dizziness, trouble breathing.
This is not a complete list of possible side effects. If you notice other effects not listed above, contact your doctor or pharmacist.
In the US - Call your doctor for medical advice about side effects. You may report side effects to FDA at 1-800-FDA-1088 or at www.fda.gov/medwatch.
In Canada - Call your doctor for medical advice about side effects. You may report side effects to Health Canada at 1-866-234-2345.
Precautions
Before taking calcitriol, tell your doctor or pharmacist if you are allergic to it; or to other vitamin D products; or if you have any other allergies. This product may contain inactive ingredients, which can cause allergic reactions or other problems. Talk to your pharmacist for more details.
Before using this medication, tell your doctor or pharmacist your medical history, especially of: high calcium levels, heart disease (such as irregular heartbeat, coronary artery disease), kidney disease (such as kidney stones).
Notify your doctor beforehand if you will be having surgery or will be confined to a chair/bed (immobile) for a long time. Being immobile for long periods of time increases your risk of side effects.
Be sure to drink plenty of fluids unless otherwise directed by your doctor.
During pregnancy, this medication should be used only when clearly needed. Discuss the risks and benefits with your doctor.
It is unknown if this drug passes into breast milk. Consult your doctor before breast-feeding.
Interactions
See also How to Use section.
Drug interactions may change how your medications work or increase your risk for serious side effects. This document does not contain all possible drug interactions. Keep a list of all the products you use (including prescription/nonprescription drugs and herbal products) and share it with your doctor and pharmacist. Do not start, stop, or change the dosage of any medicines without your doctor's approval.
Some products that may interact with this drug include: burosumab, cardiac glycosides (such as digoxin, digitalis), magnesium-containing medications (such as antacids, milk of magnesia), phosphate binders, vitamins/nutritional supplements (especially calcium and vitamin D), drugs that can speed up the removal of calcitriol from your body (such as ketoconazole, phenobarbital, phenytoin).
Check the labels on all your prescription and nonprescription/herbal products (such as antacids, laxatives, vitamins) because they may contain calcium, magnesium, phosphate, and vitamin D. Ask your pharmacist about using those products safely.
Calcitriol is very similar to other forms of vitamin D. Do not use medications containing other forms of vitamin D while using calcitriol.
This medication may interfere with certain laboratory tests (such as cholesterol test), possibly causing false test results. Make sure laboratory personnel and all your doctors know you use this drug.
Does Rocaltrol interact with other drugs you are taking?
Enter your medication into the WebMD interaction checker
Overdose
Do not share this medication with others.
Lab and/or medical tests (such as calcium, magnesium, phosphorus, parathyroid levels) should be done while you are taking this medication. Keep all medical and lab appointments. Consult your doctor for more details.
Foods rich in vitamin D include: fortified dairy products, eggs, sardines, cod liver oil, chicken livers and freshwater fish. Vitamin D is also obtained from periodic exposure to the sun.
It is important to maintain a well-balanced diet while taking this medication. Calcium supplements may be recommended in addition to this medication. The usual recommendation for calcium is 600 to 1200 milligrams per day. Discuss this with your doctor. Do not take supplements unless directed by your doctor.
If you miss a dose, take it as soon as you remember. If it is near the time of the next dose, skip the missed dose. Take your next dose at the regular time. Do not double the dose to catch up.
Store at room temperature away from light and moisture. Do not store in the bathroom. Keep all medications away from children and pets.
Do not flush medications down the toilet or pour them into a drain unless instructed to do so. Properly discard this product when it is expired or no longer needed. Consult your pharmacist or local waste disposal company.
Images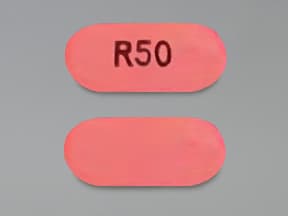 Rocaltrol 0.5 mcg capsule
Color: dark orange
Shape: oblong
Imprint: R50
This medicine is a dark orange, oblong, capsule imprinted with "R50".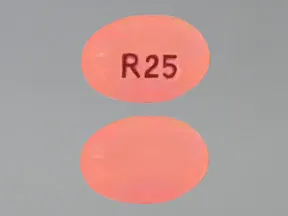 Rocaltrol 0.25 mcg capsule
Color: light orange
Shape: oval
Imprint: R25
This medicine is a dark orange, oblong, capsule imprinted with "R50".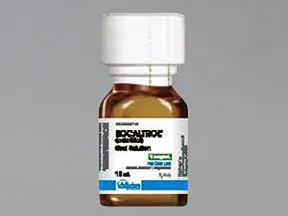 Rocaltrol 1 mcg/mL oral solution
Color: colorless
Shape:
Imprint:
This medicine is a dark orange, oblong, capsule imprinted with "R50".
Free RX Coupon
Save up to
80%

on your prescriptions.
Available coupons
Save up to 80% on your prescription with WebMDRx
Drug Survey
Are you currently using Rocaltrol?
This survey is being conducted by the WebMD marketing sciences department.
Selected from data included with permission and copyrighted by First Databank, Inc. This copyrighted material has been downloaded from a licensed data provider and is not for distribution, except as may be authorized by the applicable terms of use.
CONDITIONS OF USE: The information in this database is intended to supplement, not substitute for, the expertise and judgment of healthcare professionals. The information is not intended to cover all possible uses, directions, precautions, drug interactions or adverse effects, nor should it be construed to indicate that use of a particular drug is safe, appropriate or effective for you or anyone else. A healthcare professional should be consulted before taking any drug, changing any diet or commencing or discontinuing any course of treatment.