Uses
Carteolol is used alone or with other medications to treat high pressure inside the eye due to glaucoma (open-angle type) or other eye diseases (such as ocular hypertension). Lowering high pressure inside the eye helps to prevent blindness. Carteolol is a beta blocker. It is thought to work by reducing the amount of fluid made in the eye.
How to use Carteolol HCL Drops
Use this medication in the affected eye(s) as directed by your doctor, usually 1 drop twice daily. Use in the eye only. Do not swallow or inject.
Dosage is based on your medical condition and response to treatment. Follow your doctor's directions on how to use this medication.
To apply eye drops, wash your hands first. To avoid contamination, do not touch the dropper tip or let it touch your eye or any other surface.
Before using, check this product visually for brown discoloration, cloudiness, or particles. If any of these is present, do not use the eye drops.
The preservative in this product may be absorbed by contact lenses. If you wear contact lenses, remove them before using your eye drops. Wait at least 15 minutes after using this medication before putting your contact lenses back in.
Tilt your head back, look upward, and pull down the lower eyelid to make a pouch. Hold the dropper directly over the eye and place one drop in the pouch. Look downward and gently close your eyes for 1-2 minutes. Place one finger at the corner of the eye near the nose and apply gentle pressure. This will prevent the medication from draining out. Try not to blink and do not rub the eye. Repeat these steps for your other eye if directed by your doctor.
Do not rinse the dropper. Replace the dropper cap after each use.
If you are using another kind of eye medication (such as drops or ointments), wait at least 10 minutes before applying other medications. Use the eye drops before eye ointments to allow the eye drops to enter the eye.
Use this medication regularly in order to get the most benefit from it. To help you remember, use it at the same times each day. Keep using this medication even if you feel well. Most people with high pressure in the eye do not feel sick.
Side Effects
Temporary blurred vision or temporary burning/stinging/itching/redness of the eye may occur. If any of these effects last or get worse, tell your doctor or pharmacist promptly.
Remember that this medication has been prescribed because your doctor has judged that the benefit to you is greater than the risk of side effects. Many people using this medication do not have serious side effects.
Tell your doctor right away if you have any serious side effects, including: eye pain/swelling/discharge, eye sensitivity to light, mental/mood changes (such as depression), new or worsening symptoms of heart failure (such as swelling ankles/feet, unusual tiredness, unusual/sudden weight gain), slow/irregular heartbeat, dizziness.
Get medical help right away if you have any very serious side effects, including: wheezing/difficulty breathing, chest pain, fainting, weakness on one side of the body, trouble speaking, seizures, confusion, sudden vision changes.
A very serious allergic reaction to this drug is rare. However, get medical help right away if you notice any symptoms of a serious allergic reaction, including: rash, itching/swelling (especially of the face/tongue/throat), severe dizziness, trouble breathing.
This is not a complete list of possible side effects. If you notice other effects not listed above, contact your doctor or pharmacist.
In the US - Call your doctor for medical advice about side effects. You may report side effects to FDA at 1-800-FDA-1088 or at www.fda.gov/medwatch.
In Canada - Call your doctor for medical advice about side effects. You may report side effects to Health Canada at 1-866-234-2345.
Precautions
Before using carteolol, tell your doctor or pharmacist if you are allergic to it; or to other beta blockers (such as timolol); or if you have any other allergies. This product may contain inactive ingredients (such as preservatives) which can cause allergic reactions or other problems. Talk to your pharmacist for more details.
Before using this medication, tell your doctor or pharmacist your medical history, especially of: lung disease/breathing problems (such as asthma, chronic obstructive pulmonary disease-COPD), slow/irregular heartbeat (such as bradycardia, AV block), heart disease (such as chest pain, heart attack, heart failure), diabetes, overactive thyroid (such as hyperthyroidism), blood circulation problems (such as Raynaud's disease, peripheral vascular disease), low blood flow to the brain (cerebral insufficiency, stroke), mental/mood disorders (such as depression), certain nerve/muscle problems (such as myasthenia gravis), history of severe allergic reactions (such as anaphylaxis, atopy).
If you develop an eye infection or injury, or have eye surgery, check with your doctor about whether you should continue to use your current bottle of carteolol. You may be advised to start using a new bottle.
After you apply this drug, your vision may become temporarily blurred. Do not drive, use machinery, or do any activity that requires clear vision until you can do it safely.
Before having surgery, tell your doctor or dentist about all the products you use (including prescription drugs, nonprescription drugs, and herbal products).
This product may prevent the fast/pounding heartbeat you would usually feel when your blood sugar level falls too low (hypoglycemia). The risk is higher if you have diabetes, or are vomiting, fasting, or not eating regularly. Other symptoms of low blood sugar level, such as dizziness and sweating, are not affected by this drug.
If you have diabetes, this product may make it harder to control your blood sugar levels. Check your blood sugar levels regularly as directed by your doctor. Tell your doctor right away if you have symptoms of high blood sugar such as increased thirst/urination. Your doctor may need to adjust your diabetes medication, exercise program, or diet.
During pregnancy, this medication should be used only when clearly needed. Discuss the risks and benefits with your doctor.
It is unknown if this medication passes into breast milk. Consult your doctor before breast-feeding.
Interactions
Does Carteolol HCL Drops interact with other drugs you are taking?
Enter your medication into the WebMD interaction checker
Overdose
This medicine may be harmful if swallowed. If someone has overdosed and has serious symptoms such as passing out or trouble breathing, call 911. Otherwise, call a poison control center right away. US residents can call their local poison control center at 1-800-222-1222. Canada residents can call a provincial poison control center. Symptoms of overdose may include: slow/irregular heart beat, dizziness, fainting, difficulty breathing.
Do not share this medication with others.
Lab and/or medical tests (such as eye exams, heart rate) should be done while you are using this medication. Keep all medical and lab appointments. Consult your doctor for more details.
If you miss a dose, use it as soon as you remember. If it is near the time of the next dose, skip the missed dose. Use your next dose at the regular time. Do not double the dose to catch up.
Store at room temperature away from light. Do not freeze. Keep all medications away from children and pets.
Do not flush medications down the toilet or pour them into a drain unless instructed to do so. Properly discard this product when it is expired or no longer needed. Consult your pharmacist or local waste disposal company.
Images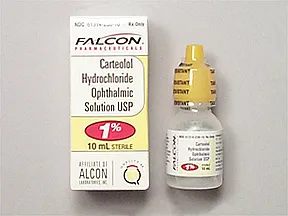 carteolol 1 % eye drops
Color: clear
Shape:
Imprint:
This medicine is a clear, clear, drops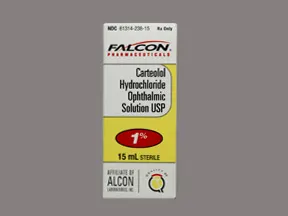 carteolol 1 % eye drops
Color: clear
Shape:
Imprint:
This medicine is a clear, clear, drops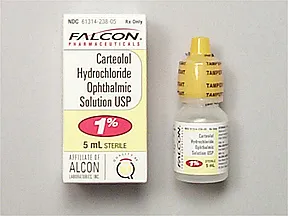 carteolol 1 % eye drops
Color: clear
Shape:
Imprint:
This medicine is a clear, clear, drops
Drug Survey
Are you currently using Carteolol HCL Drops?
This survey is being conducted by the WebMD marketing sciences department.
Selected from data included with permission and copyrighted by First Databank, Inc. This copyrighted material has been downloaded from a licensed data provider and is not for distribution, except as may be authorized by the applicable terms of use.
CONDITIONS OF USE: The information in this database is intended to supplement, not substitute for, the expertise and judgment of healthcare professionals. The information is not intended to cover all possible uses, directions, precautions, drug interactions or adverse effects, nor should it be construed to indicate that use of a particular drug is safe, appropriate or effective for you or anyone else. A healthcare professional should be consulted before taking any drug, changing any diet or commencing or discontinuing any course of treatment.