Uses
This medication is used to treat the symptoms of a certain intestinal problem called ulcerative colitis. It is not a cure for this condition, but it is usually used with other treatments to manage this problem. Hydrocortisone enemas help to decrease diarrhea and bloody stools by reducing swelling (inflammation) in the rectum and colon. Hydrocortisone belongs to a class of drugs called corticosteroids.
How to use hydrocortisone rectal
Read the directions for use that come with this product. If you have any questions, ask your doctor or pharmacist.
Use this product in the rectum as directed by your doctor, usually once nightly before bedtime. The usual length of treatment is 2 to 3 weeks or until symptoms go away (remission). In some cases, remission may take up to 2 or 3 months. The dosage and length of treatment are based on your medical condition and response to treatment.
For best results, use after a bowel movement. Shake the bottle thoroughly before use. Lie on your left side with your right knee bent toward the chest. Gently insert the applicator tip into the rectum. Gently but firmly squeeze the bottle so that all of the drug flows into the rectum. Remain lying on your left side for at least 30 minutes. Keep the medicine in your rectum for at least 1 hour and overnight if possible.
Use this medication regularly as prescribed to get the most benefit from it. It may take 3 to 5 days to notice an improvement.
Do not use more of this product, use it more often, or use it for longer than prescribed. Your condition will not improve any faster, and your risk of side effects may increase. If you have been using this medication for a long time (more than 3 weeks), do not stop using it without consulting your doctor. Some conditions may become worse when this drug is suddenly stopped. Your dose may need to be gradually decreased.
Tell your doctor if your condition does not improve after 2 to 3 weeks of treatment or if it worsens.
Side Effects
Pain or burning in the rectum, dizziness, menstrual period changes, trouble sleeping, unusual weight gain, increased sweating, acne, or unusual hair growth may occur. If any of these effects last or get worse, tell your doctor or pharmacist promptly.
Remember that this medication has been prescribed because your doctor has judged that the benefit to you is greater than the risk of side effects. Many people using this medication do not have serious side effects.
Tell your doctor right away if you have any serious side effects, including: rectal bleeding that doesn't stop, headache that doesn't go away, swelling ankles/feet, increased thirst/urination, vision problems, puffy face, thinning skin, unusual skin growths, slow wound healing, unusual bruising/bleeding, symptoms of stomach/intestinal bleeding (such as stomach/abdominal pain, black/tarry stools, vomit that looks like coffee grounds), severe heartburn, bone pain, easily broken bones, mental/mood changes (such as depression, mood swings, agitation), muscle weakness/pain, irregular heartbeat, signs of infection (such as sore throat that doesn't go away, fever, painful urination, worsening redness/irritation near the anus), seizures.
A very serious allergic reaction to this drug is rare. However, get medical help right away if you notice any symptoms of a serious allergic reaction, including: rash, itching/swelling (especially of the face/tongue/throat), severe dizziness, trouble breathing.
This is not a complete list of possible side effects. If you notice other effects not listed above, contact your doctor or pharmacist.
In the US - Call your doctor for medical advice about side effects. You may report side effects to FDA at 1-800-FDA-1088 or at www.fda.gov/medwatch.
In Canada - Call your doctor for medical advice about side effects. You may report side effects to Health Canada at 1-866-234-2345.
Precautions
Before using hydrocortisone, tell your doctor or pharmacist if you are allergic to it; or to other corticosteroids (such as prednisone); or if you have any other allergies. This product may contain inactive ingredients, which can cause allergic reactions or other problems. Talk to your pharmacist for more details.
Before using this medication, tell your doctor or pharmacist your medical history, especially of: other stomach/intestinal problems (such as ulcers, blockage, bleeding, infection, recent surgery), infections (such as tuberculosis, fungal infections), certain eye conditions (cataracts, glaucoma, herpes infection of the eye), heart problems (such as heart failure, recent heart attack), high blood pressure, liver disease, kidney disease, thyroid problems (overactive or underactive thyroid disease), diabetes, bone loss (osteoporosis), bleeding or blood clotting problems, mental/mood conditions (such as psychosis, depression), low potassium or calcium blood levels, a certain muscle/nerve disease (myasthenia gravis).
This drug may make you dizzy. Alcohol or marijuana (cannabis) can make you more dizzy. Do not drive, use machinery, or do anything that needs alertness until you can do it safely. Limit alcoholic beverages to also decrease the risk of stomach/intestinal bleeding. Talk to your doctor if you are using marijuana (cannabis).
Using corticosteroid medications for a long time can make it more difficult for your body to respond to physical stress. Before having surgery or emergency treatment, or if you get a serious illness/injury, tell your doctor or dentist that you are using this medication or have used this medication within the past 12 months. Tell your doctor right away if you develop unusual/extreme tiredness or weight loss. If you will be using this medication for a long time, carry a warning card or medical ID bracelet that identifies your use of this medication.
Tell your health care professional that you are using hydrocortisone before having any immunizations, vaccinations, or skin tests. Avoid contact with people who have recently received live vaccines (such as flu vaccine inhaled through the nose).
This drug can make you more likely to get infections or may make current infections worse. Stay away from anyone who has an infection that may easily spread (such as chickenpox, COVID-19, measles, flu). Talk to your doctor if you have been exposed to an infection or for more details.
If you have diabetes, this drug may affect your blood sugar. Check your blood sugar regularly as directed and share the results with your doctor. Tell your doctor right away if you have symptoms of high blood sugar such as increased thirst/urination. Your doctor may need to adjust your diabetes medication, exercise program, or diet.
Older adults may be more sensitive to the side effects of this drug, especially bone loss/pain, stomach/intestinal bleeding, and mental/mood changes (such as confusion).
This medication may slow down a child's growth if used for a long time. Consult the doctor or pharmacist for more details. See the doctor regularly so your child's height and growth can be checked.
During pregnancy, this medication should be used only when clearly needed and not for prolonged periods. Other forms of hydrocortisone (given by mouth or by injection) may harm an unborn baby. Discuss the risks and benefits with your doctor. Infants born to mothers who have been using this medication for an extended time may have low levels of the natural corticosteroid hormone in their bodies and may need more monitoring. Tell your doctor right away if you notice symptoms such as vomiting, severe diarrhea, or weakness in your newborn.
It is unknown if this drug passes into breast milk. However, it is unlikely to harm a nursing infant. Consult your doctor before breast-feeding.
Interactions
Drug interactions may change how your medications work or increase your risk for serious side effects. This document does not contain all possible drug interactions. Keep a list of all the products you use (including prescription/nonprescription drugs and herbal products) and share it with your doctor and pharmacist. Do not start, stop, or change the dosage of any medicines without your doctor's approval.
Some products that may interact with this drug include: aldesleukin, "blood thinners" (such as warfarin).
Check all prescription and nonprescription medicine labels carefully since many medications contain pain relievers/fever reducers (including aspirin, salicylates, NSAIDs such as ibuprofen, naproxen) that may increase your risk of bleeding when taken with corticosteroids. However, if your doctor has directed you to take low-dose aspirin for heart attack or stroke prevention (usually 81-162 milligrams a day), you should continue taking the aspirin unless your doctor instructs you otherwise. Ask your pharmacist about using those products safely.
Does hydrocortisone rectal interact with other drugs you are taking?
Enter your medication into the WebMD interaction checker
Overdose
This medicine may be harmful if swallowed. If someone has overdosed and has serious symptoms such as passing out or trouble breathing, call 911. Otherwise, call a poison control center right away. US residents can call their local poison control center at 1-800-222-1222. Canada residents can call a provincial poison control center.
Do not share this medication with others.
Lab and/or medical tests (such as sigmoidoscopy, colonoscopy, adrenal gland function tests) should be done while you are using this medication. Keep all medical and lab appointments. Consult your doctor for more details.
If you use this medication for a long time, wear or carry identification stating that you are using it.
If you miss a dose, use it as soon as you remember. If it is near the time of the next dose, skip the missed dose. Use your next dose at the regular time. Do not double the dose to catch up.
Store at room temperature. Keep all medications away from children and pets.
Do not flush medications down the toilet or pour them into a drain unless instructed to do so. Properly discard this product when it is expired or no longer needed. Consult your pharmacist or local waste disposal company.
Images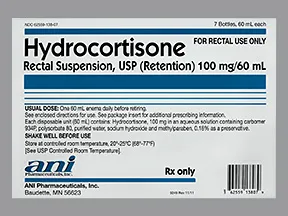 hydrocortisone 100 mg/60 mL enema
Color: milky white
Shape:
Imprint:
This medicine is a milky white, enema
Drug Survey
Are you currently using hydrocortisone rectal?
This survey is being conducted by the WebMD marketing sciences department.
Selected from data included with permission and copyrighted by First Databank, Inc. This copyrighted material has been downloaded from a licensed data provider and is not for distribution, except as may be authorized by the applicable terms of use.
CONDITIONS OF USE: The information in this database is intended to supplement, not substitute for, the expertise and judgment of healthcare professionals. The information is not intended to cover all possible uses, directions, precautions, drug interactions or adverse effects, nor should it be construed to indicate that use of a particular drug is safe, appropriate or effective for you or anyone else. A healthcare professional should be consulted before taking any drug, changing any diet or commencing or discontinuing any course of treatment.